Comino 'Blue Lagoon' by Speedboat
Where we'll go
Cruise past the north coast of Malta and around Comino
Visiting Blue Lagoon & Comino
Free time in Blue Lagoon for swimming & sunbathing
Fantastic caves around Comino
Price Includes
Rep
Return speedboat trip to Comino 'Blue Lagoon'
Trip by speedboat to the north coast of Malta
Return transport by coach
Malta's Comino 'Blue Lagoon' by Speedboat. Comino is a spectacular small, rocky island situated between Malta and Gozo which includes the famous Comino Blue Lagoon, also known as 'Blue Lagoon Malta'. Rising with low cliffs from the Azure Mediterranean, it has breath-taking coastal scenery and is punctured with deep caves. All this makes Comino a thrilling place to enjoy an afternoon with family and friends and what better way to experience it than getting wet on a speedboat hurtling along the coast – what fun!
The Comino 'Blue Lagoon' is a place that never fails to impress. Situated in a strip of water, nestled between the island of Comino and the islet of Cominotto, it almost seems unnatural in it's beauty. The lagoon's water is so blue, that it looks like a painter has gone to it with the most vivid blue paint to be found. When the sun begins to fall in the early evening, the golden kiss it gives to the surrounding landscape is unforgettable. The Comino 'Blue Lagoon' is like a deep, natural swimming pool protected from the outside sea by several islets, making it perfect for swimming, sunbathing and fun with family and friends.
If you are a lone traveller, you can choose to book a Hop-on Hop-off bus for both Malta & Gozo with us. Click here to view details and to book your ticket.
Top Ten
People also visited...
Reviews
As expected, nice nature, felt safe, very friendly guide, relaxed atmosphere, well done!
-Caecilia Simon, 50, German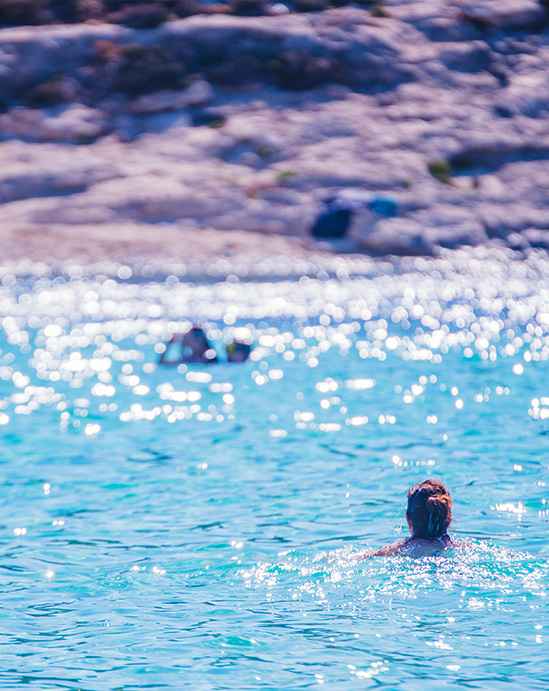 We're sorry, but we currently do not have any upcoming excursions for: Comino 'Blue Lagoon' by Speedboat.
This tour's places of Interest