Silent City by Night
Where we'll go
Rabat - suburbs of Mdina
Tour around fortified city of Mdina
Panoramic view of Malta from bastions
Coffee & cake stop (optional)
Main gate & Greek gate
Free time to explore Mdina
Price Includes
Professional English Tour Guide
Private transport with pick-up and drop-off
Mdina by Night. If you like being inspired when you go on holiday, then Mdina will you do that for you for it is inspiring in every way. Mdina, the old capital city of Malta, ancient in its origin and Medieval at its heart, is a city that has so much to offer the visitor, with its untouched architecture spanning many eras from the Norman to Baroque and Rococo. The city was the Malta capital for centuries until the Knights of Malta moved the seat of power to the Three cities in the 16th century.
In Mdina history comes alive and as you stroll down the imposing main avenue, lined by elegant Norman and baroque palaces, your thoughts can't help but be whisked away to other eras where knights walked ramparts and noblemen pursued noblewomen. The seductive feeling of antiquity remains with you while you walk the narrow, cobbled streets, rising or falling on gentle slopes, giving this compact city the feeling of an architectural maze. To help you get the very best from this city our knowledgeable guides will explain all the fascinating intrigues Mdina has to offer.
Mdina is often referred to as the Silent City and this name is apt to describe the feeling the city gives, particularly in the late afternoons or evenings. The city is mostly pedestrianized and the thick walls of all the buildings allow no noise to pass from within so the city takes on a peaceful and relaxing ambience. We will visit a traditional Mdina café for coffee and cake within a former Mdina noble residence. After the tour, we give you time to leisurely roam the picturesque streets and lanes to fully appreciate Mdina's unique beauty. We will also visit Mdina's neighbouring town, Rabat, which is a historical gem in its own right. This is a tour not to be missed.
If you are a lone traveler, you can choose to book a Hop-on Hop-off bus for both Malta & Gozo with us. Click here to view details and to book your ticket.
Top Ten
People also visited...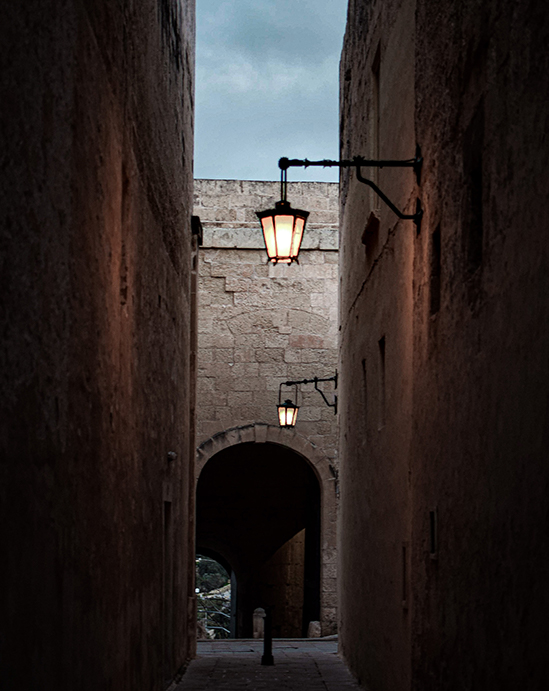 We're sorry, but we currently do not have any upcoming excursions for: Silent City by Night .
This tour's places of Interest