Sandy Beach Mellieha Bay
Where we'll go
Free time to enjoy Mellieha Bay
Time for swimming & sunbathing at Mellieha Bay
Price Includes
Return transport by coach
Picturesque Mellieha Bay, the longest of the sandy beaches in Malta, is dominated by the charming village of Mellieha Malta, with its striking church, positioned high above the blue waters below. A short winding road takes you from the village to the beach itself with spectacular views as you descend the steep slope. Mellieha Bay Beach should be high on your list of Malta beaches to visit.
The warm, shallow waters of Mellieha Bay are ideal for swimming and all types of water sports. There is truly something for everyone at this beach – from lazy swimming or sunbathing, great snorkelling along the rocky sides and the more adventurous will enjoy kite-surfing, water-skiing and wind-surfing. There are also canoes, paddleboats, jet skis and other sea craft for rent. On the opposite side of Mellieha Bay to the village is the Marfa Ridge, a long stretch of rocky coast which provides sensational snorkelling opportunities. All this makes Mellieha Bay beach one of the best beaches in Malta. We will take you to this stunning location, hassle free so that you can relax or enjoy a thrilling afternoon of water sports and return you to your hotel in the same relaxed manner.
If you are a lone traveller, you can choose to book a Hop-on Hop-off bus for both Malta & Gozo with us. Click here to view details and to book your ticket.
Top Ten
People also visited...
Reviews
Excellent beach experience, excellent transport and organisation, excellent guides.
-Albert Pujol, 40, Spain
Very nice and interesting thanks to some information given during the trip. Very cool, thank you 🙂
-Eva Richard, 19, French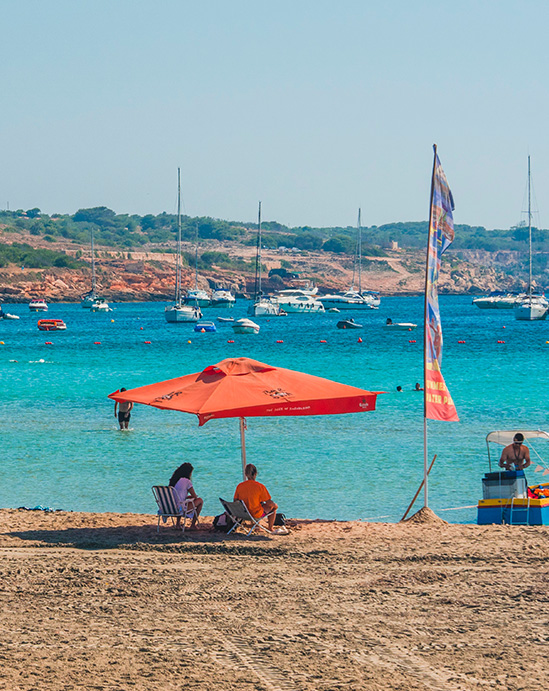 We're sorry, but we currently do not have any upcoming excursions for: Sandy Beach Mellieha Bay.
This tour's places of Interest