Malta's long history of folk, sighting & myths of sea monsters  
Yes, I know the title of this article won't sell many packaged tours on a brochure, but Malta has, as do most countries surrounded by sea, myths and legends pertaining to frightening creatures lurking in the depths of its clear blue waters. 
Is-silfjun
Since the 16th century, folk tales have spoken of the 'silfjun', which was described as a 'whale sized shark' and dwelt around the island of Filfla off Malta's south eastern coast, along with other giant sea monsters.  In the past, the Maltese would often refer to the Great White shark as 'silfjun' and evidence backs up the myths of monster sized sharks around Malta.  Numerous fossilised teeth of the prehistoric monstrous shark, the Megalodon, have been found embedded in the limestone rock.  This shark is believed to be the mighty ancestor of the modern Great White which, though rare, can be seen in Maltese waters.
Records of the silfjun can be found from several sources.  Its image has been seen on antique maps of the islands dating back to the early 1600s.  In 1642 Giovanni Francesco Abela wrote that 'a terrifying marine monster with double rows of teeth' washed ashore at Mellieha Bay following a storm.  At around the same time, the German scholar, Athanasius Kircher, while visiting Malta, describes a monstrous sea devil on the sands of Mellieha Bay and asked, 'Why would nature want such creatures to exist?'
Another fishy story states that a local fisherman, fishing at Mellieha Bay, reported a gigantic tentacle crept up on land behind him.  This tentacle was so huge, it must have belonged to an octopus like creature measuring around 10 metres across.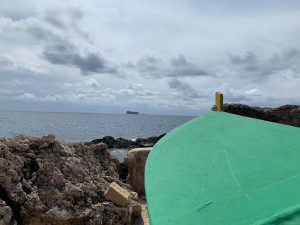 Tragic deaths at sea
Skipping a few centuries to 1890, there is the tale of a large fish weighing more than 600kg being caught in Mellieha just days after two Maltese fishermen were reported to have been killed by a large shark off Marsaskala bay.  The two men were 66-year-old Salvu Bugeja and his 22-year-old son Wistin who were in the company of two other fisherman when their boat was capsized by a large fish, which had been seen by the boy just moments earlier.  The sea creature then devoured Salvu and his son before the eyes of their companions and other onlookers in the area.
The last known death from a sea creature in Maltese waters occurred more than 60 years ago in 1956 when 40-year-old Jack Smedley, a retired British naval officer was attacked and carried away by a shark off the coast of Marsaskala.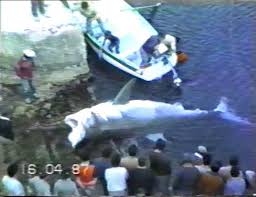 Blue Grotto, where the largest Great White Shark ever, was caught
Over the past six decades there have been numerous reports of large fish and shark sightings and capture, but by far the most renowned was that of local hero, fisherman Alfredo Cutajar.   On the 17th April 1987, Alfredo captured and dragged in what is believed to be the largest great white shark ever caught.  Measuring in length more than 7 metres and weighing more than 3 tons, the female shark had recently given birth and inside its stomach they found a 2-metre blue shark, a 2.5 metre dolphin and a 70cm turtle. 
What was even more remarkable was the method and manner in which Alfredo caught this monster of a shark -using fishing line off floats used for catching tuna and swordfish and off a Maltese fishing dgħajsa.  This was the second time that Alfredo had caught a great white and this last feat made him a household name.  Photos of his catch can be seen on the walls of bars and restaurants at Blue Grotto Malta in Wied iż–Żurrieq.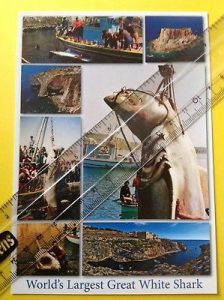 The Maltese Sea is safe
Now, after reading this article you may now be having second thoughts about taking a plunge into the beautiful Mediterranean Sea around Malta.  But allow me now to allay your fears.  In the past century only one person has fallen victim to a shark attack in Malta and that was over sixty years ago.  Therefore, you have probably a statistically greater chance of perishing form heatstroke if you stay out in the summer sun too long than you have of being taken by a shark in Maltese waters.  In comparison my country of birth, Australia saw 26 deaths from Shark attack between 2007 and 2018 and with 501 attacks over the past three decades. The average number of shark fatalities in Australia is 1.5 persons per year. 
So, after Covid 19 becomes a part of history and you venture back to Malta you can feel safe within its pristine azure waters enjoying all that summer in Malta has to offer.