Discover Malta by Night Tour
Where we'll go
Visiting the city of Mdina
Tour around Vittoriosa
Free time at Vittoriosa Waterfront
Drive around Valletta City Bastions
Price Includes
Professional tour guide
Return transport by coach
If you are looking for things to do in Malta at night, there is no better way to start then by taking our Discover Malta by Night Tour. Night brings a mythical quality to many parts of the island. The floodlit bastions of its historical cities can be seen in all their grandeur. Mdina, Valletta and Vittoriosa possess a mystical type of romance, but you'll just have to experience them to know what we mean.
Mdina
Eleven-hundred year old Mdina is often referred to as 'The Silent City'. It lives up to its name best at night. In walking through Mdina's narrow streets and viewing the grand palaces that line many of them, you will be transported to a forgotten age where noble men and peasants alike rubbed shoulders and where Knights of Malta and men at arms fought to defend the city against its enemies. The floodlit piazzas and buildings contrast against a starry night sky to offer a moving experience that you will long remember.
Vittoriosa
Vittoriosa Malta is another night time feast. Walking along the seafront lined with super yachts and other sea-craft, cafes and restaurants, you will admire the imposing walls of this medieval treasure. With scenic points at every step, you can be sure that this first visit will not be your last.
If you are looking for things to do in Valletta Malta at night, you will be spoilt for choice. It is a compact city, circled by walls which are immensely eye-catching. Even more so at night when Valletta offers a luminous, almost fantasy, type of sensation for anyone visiting at night for the first time. We will offer scale and scope to this beautiful walled city, as you go on your guided tour around its towering fortifications.
If you are a lone traveller, you can choose to book a Hop-on Hop-off bus for both Malta & Gozo with us. Click here to view details and to book your ticket.
Top Ten
People also visited...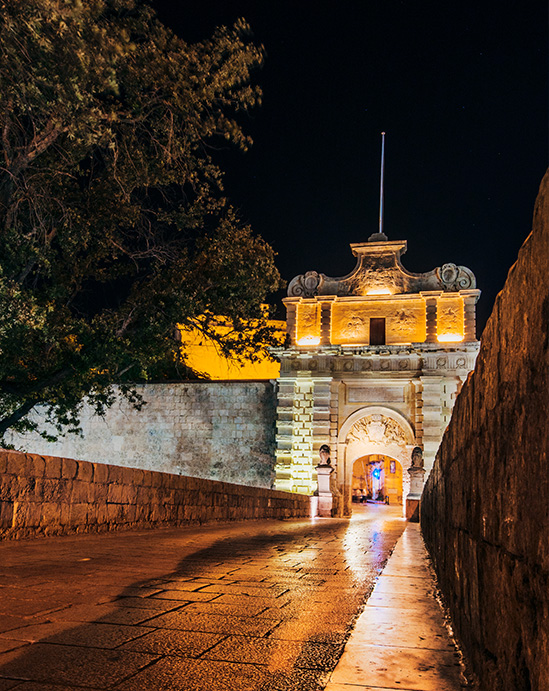 We're sorry, but we currently do not have any upcoming excursions for: Discover Malta by Night Tour.
This tour's places of Interest