The Best of Gozo & Comino (without transport)
Where we'll go
Cruise to Gozo & drive around the Island
Return Cruise to Comino 'Blue Lagoon'
Time for swimming & sunbathing at Comino 'Blue Lagoon'
Price Includes
Cruise past the North of Malta to Gozo
Drive around Gozo visiting various sites
Visiting Blue Lagoon and Comino
The Best of Malta's Gozo and Comino. If you have never visited the Islands of Gozo (Ghawdex in Maltese) or Comino (Kemmuna in Maltese) then you're in for a treat. These two beautiful islands have so much to offer but for very different reasons.
A short distance from Gozo, across a beautiful blue straight, is the almost uninhabited rocky island of Comino. This small island is a delight to see as you cruise towards the famous Comino Blue Lagoon. This sheltered lagoon nestled between the island of Comino and smaller islets of Cominotto, is so blue that it looks like it has been painted, that you could be forgiven for thinking that it is a giant man-made swimming pool.  You'll have time to lap-up all that Comino Island has to offer. We're sure you won't want to leave.
If you are a lone traveller, you can choose to book a Hop-on Hop-off bus for both Malta & Gozo with us. Click here to view details and to book your ticket.
Top Ten
People also visited...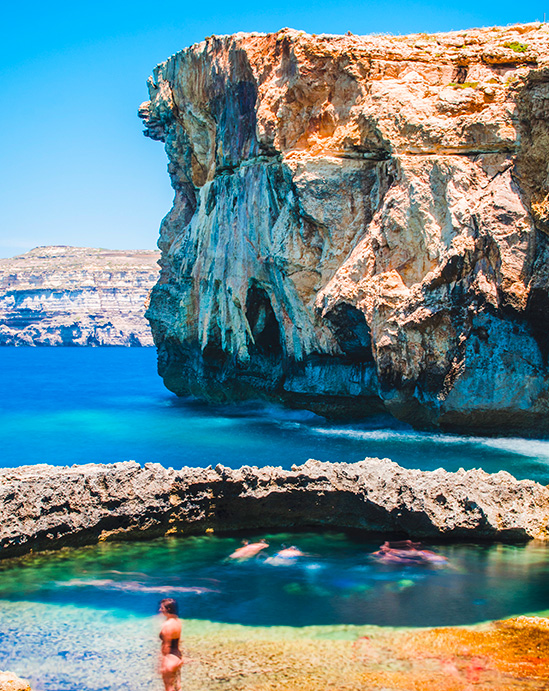 Upcoming Tour Dates
Tuesday 31st October
09:30-17:00 · €40.00 per person
This tour's places of Interest