Sandy Beach Golden Bay
Where we'll go
Free time to visit Golden Bay
Time for swimming & sunbathing at Golden Bay
Price Includes
Return transport by coach
Golden Bay exudes an exotic feeling with a touch of chic. If you only have time to visit one of the sandy beaches in Malta, Golden Bay is definitely the right choice.
Golden Bay is one of the best beaches in Malta. It has everything: sand that gives the bay its name, crystal clear water great for swimming and snorkelling, a great variety of water sports on offer and among the best facilities of any beach in Malta. But it is the setting that makes this bay and its neighbour, Ghajn Tuffieha Bay (translated: Apples Eye Bay), so appealing. Surrounded by golden limestone cliffs and with no buildings other than the hotel visible, it has the right mix of remoteness and facilities. Of all the Malta beaches, this one says Mediterranean holiday best.
We take you at the best time of the day to enjoy this amazing beach, when most of the day trippers are leaving and the sand and surrounding stone begin to reflect the setting sun, giving the beach a romantic quality all of its own.
It's also the only beach where there is a bar right on the beach, with a lounge chairs where you can sip a cool drink as the evening draws on. The classy Radisson Blu Golden Sands five-star hotel sits alone and imposing upon a low cliff overlooking the golden sands and blue waters below. Oh, by the way sunset at Golden Bay beach – stunning!
If you are a lone traveller, you can choose to book a Hop-on Hop-off bus for both Malta & Gozo with us. Click here to view details and to book your ticket.
Top Ten
People also visited...
Reviews
It has been a fantastic experience – the beach was amazing!
-Costanza Petiazzi, 15, Italian
An amazing experience, the place is gorgeous!
-Maria Cordara, 16, Italian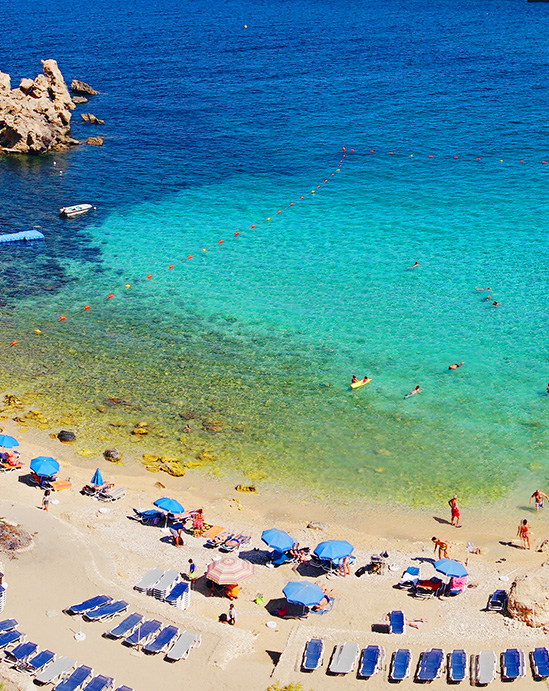 We're sorry, but we currently do not have any upcoming excursions for: Sandy Beach Golden Bay .
This tour's places of Interest